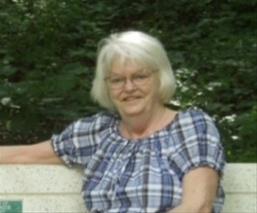 Born on:

June 23, 1942

Departed on:

July 30, 2022

Resided in:

Ankeny, IA
Katharin Mae Berner
Katharin Mae Berner, age 81, of Ankeny, Iowa passed away at Mill Pond Care Center on Saturday, July 30, 2022.
Kathy was born June 23, 1941, in Waterloo, Iowa to parents Lloyd and Lessie Harris Appleton, and was raised in Raymond Iowa. She married the love of her life, Thomas R Berner, on October 13, 1962. Kathy taught cosmetology in Ames Iowa, and for many years managed a beauty shop in the basement of her home in Huxley Iowa. She also earned her degree as a legal assistant, however never worked in that field. She loved cooking, knitting, crocheting, and crafting. She was an avid pet owner and had many furry family members throughout her life. After her husband died in 2007, Kathy moved to Independence Iowa, and 10 years later settled into Mill Pond Retirement home in Ankeny Iowa.
Kathy is survived by her daughter Julie (Jeff) Jetter (Saint Charles MO), and son Todd (Christy) Berner (Mercer MO), one brother Randy (Diane) Appleton (Blakesburg IA), two sisters in law, Sarah Berner (Las Vegas NV) and Arlene Berner (Oakland CA). Five grandchildren Ashley (Dustin) Clair (Cedar Rapids IA), Amanda (Luis) Hernandez (Des Moines, IA); Chris (Kathryn) Jetter (O'Fallon MO), Tiffany Berner (Des Moines), Michel Jetter, (St. Louis MO). Kathy had nine great grandchildren. She was also blessed to be reacquainted with a daughter, Ann Dowd, of Ocean Isle Beach, North Carolina who was given up for adoption in 1960.
She was preceded in death by her husband Tom, her parents, her grandson Raymon Berner, two sisters, Nancy Werner and Becky Phelps, her brother-in-law Curt Berner, and her sister-in-law Jan McCabe.