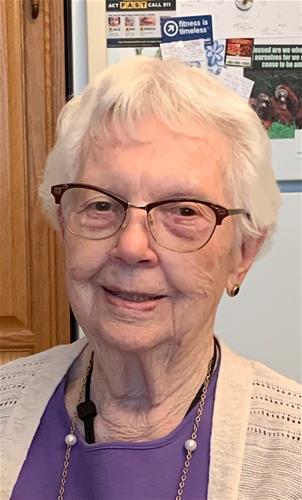 Born on:

March 22, 1931

Departed on:

September 13, 2022

Resided in:

Creston, IA
Phyllis Jean (Clark) Hindes
Phyllis Jean (Clark) Hindes, 91, formerly of Creston, IA, passed away peacefully surrounded by her family on September 13, 2022 at Scottish Rite Park in Des Moines, IA.
Phyllis was born on March 22, 1931 on a farm in Madison County, IA to William and Gladys (Richardson) Clark. She attended several country schools until the 8th grade when she went to Creston Junior High. She graduated from Creston High School in 1949.
Phyllis married Donovan Duane "Curly" Hindes on March 26, 1950 in Winterset, IA. They celebrated their 72nd wedding anniversary in March 2022 before Curly passed away in April. Together they raised three daughters, Cindy, Sherri and Becky.
Phyllis was employed at Union County Agriculture Stabilization Conservation Office for eight years in the 1950s before becoming a homemaker and raising their daughters. She was active as a Brownie Troop leader, helped with the Girls Scouts and their annual cookie sales, and attended her girls' sporting events. She was also a member of the Eagles Auxiliary #1398, the Creston Cozy Campers, and a women's bowling league. Other activities she enjoyed throughout life were swimming, biking, playing cards, traveling, cruising, and watching all kinds of sports on TV.
In 1972, Phyllis became First Deputy Auditor at the Union County Courthouse where she worked for ten years. She then joined her husband in Texas and for the next 12 years they lived in numerous cities in the Southwest as Curly continued to work in the construction trade. In 1989, Phyllis was employed by the AARP Pharmacy Accounting department for three years in Las Vegas and two years in Reno, NV. They thoroughly enjoyed their time living in these two cities.
After Curly and Phyllis retired in 1994, they relocated to Apache Junction, AZ, where they made numerous friends and enjoyed various social activities at their retirement community. In 2017, they moved back to Iowa and resided at Scottish Rite Park in Des Moines to be closer to family, especially their grandchildren and great-grandchildren.
Phyllis is survived by three daughters; Cindy Hindes of Middleton, WI; Sherri (Rod) Smith of Atchison, KS; and Becky (Ray) Kingery of Creston, IA; two grandchildren, Amber (Chad) Rutherford of West Des Moines, IA, and Cooper (Angie) Smith of Ankeny, IA; and three great-grandchildren, Ridge and Ryder Rutherford and Joanna Smith, along with a second Smith baby due in the fall.
She was preceded in death by her husband Curly, her parents, William and Gladys Clark, and her brother and sister-in-law, Marvin and Thelma Clark.
A committal service will be held at 11 a.m. Tuesday, September 20, at Iowa Veterans Cemetery, 34024 Veterans Memorial Drive, Adel, IA (Van Meter exit 113 off I-80.) In lieu of flowers, memorial contributions may be made to Suncrest Hospice or Scottish Rite Park Miller Fund and sent in care of the family at 2909 Woodland Avenue, Apt. 211, Des Moines, IA 50312.
Condolences may be expressed to the family by visiting www.IowaCremation.com under obituaries.