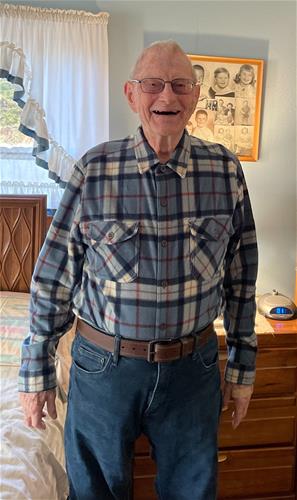 Born on:

December 31, 1928

Departed on:

January 19, 2023

Resided in:

What Cheer, IA
David Erling Olsen
David Erling Olsen, Sr. 94, of What Cheer passed away peacefully at his home on Thursday, January 19, 2023.
David was born on New Year's Eve 1928, his dad was over the moon to get the child tax credit and that set his course of being a wonderful first son! He grew up in Chicago and had a career in printing starting at his father's small print shop as a boy. In 1950 he met the love of his life Dolores Mary Moore (although mom always said he wasn't aware of this) and they we're together for 68 years. He had multiple printing jobs in Chicago, general manager at Chicago Offset Printing, printing head of operations at Ben Franklin printing division, a 5 year experience as general manager at the printing division of the Telegraph Herald in Dubuque Iowa.
In 1989 his son in law built him a home on his property so he could retire and live in What Cheer, IA. He loved the country life of mowing, opera house concerts, visiting the library once a week, he and mom would read a book a day! Took some adjustment to moving to a small town from the Windy City but they loved the life. They loved to travel and spent their 50th anniversary in Hawaii their favorite destination. He loved being general outdoor man and loved working with his son in law and daughter building and doing Renaissance Festivals. They spent 10 years in Lafayette, Indiana taking care of their grandson Kellen while his mom got her PHD at Purdue and his dad set up a carpentry business. He loved going with his son Dave on installations. He was always up for helping in anyway he could. Dave and Dee had a condo in Tucson, Arizona and loved going there every winter for years.
He is survived by his 2 daughters Kate Huffman and Violet Olsen Nicks and his son David Olsen Jr., granddaughters Sara Nicks Daggett and Nicole Nicks, his grandsons Kellen Olsen, Torin Rowan and Dan Howard and loved seeing his great grandson Ethan Howard on FaceTime. We all accused him of having a happy gene. He never let anything depress him and always found the silver lining. He was always a happy guy and a sympathetic man who contributed what he could to many charities. His heart was so large. His light will be missed by us all.