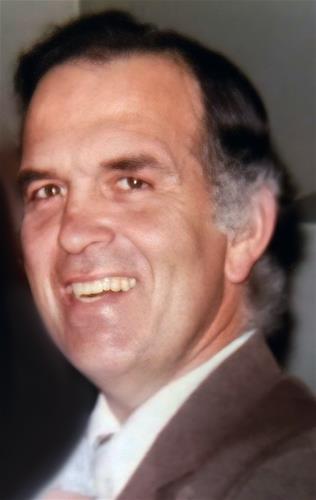 Born on:

December 29, 1934

Departed on:

March 11, 2023

Resided in:

Osceola, IA
Eugene "Gene" Joseph Lippold
Gene Lippold, 88, of Osceola, IA, passed away during the evening of March 11, 2023 at his daughter Sarah's home. He died peacefully in his sleep and drew his last breath holding the hands of his oldest daughter, Christi and his granddaughter, Molly.
Eugene Joseph, known to all as Gene, was born on December 29, 1934 to his parents Mary Catherine and Wilbur "Bill" Joseph Lippold, in Des Moines, IA. They brought him home to St. Marys, where he grew up. Gene spent his days as a child stomping in mud puddles, racing bicycles, riding horses, swimming in ponds, hunting with his uncle Greg and being a helping hand wherever needed (in the field or at his beloved Grandpa Theodor's general store). Gene often said that, when he was a kid and school let out for summer break, his shoes came off and didn't go back on till September.
Gene's first love was baseball. Raised by a father and two uncles who played professionally—he had good teachers. Gene's sole purpose and singular focus, in his youth, was to succeed in baseball and secure his and his parent's future. By the time he graduated in 1953, he was the top high school pitching prospect in the state. The Chicago Cubs agreed and he was signed by scout Tony Lucadello before the ink dried on his high school diploma.
Gene had moderate success in his first few years in the minors. He had a losing record in 1953. Pitched .500 in '54. By 1956, he had a winning record for the first time at 17-11; and in 1957, he came into his own with 19 wins and an ERA of 3.72. He completed 29 of 31 starts, leading the league in both starts and completes that year and tying for most wins. At the end of this most successful season, Gene was drafted into the Army. While in the Army he severely injured his arm. In 1960, after he was discharged, he tried again for a professional career in baseball, this time with the Chicago White Sox. But with an arm that wouldn't recover and after pitching for 3 wins and 3 losses that year, he was released.
In 1966, Gene was back in Iowa when he met Marianne Meads. Marianne and Gene were married in August of 1966. They would go on to have seven children over the course of the next 20 years: Christi, Teddy, Kevin, Brian, Calli, Katie, and Sarah.
Gene had a lot of interests in his life. Though everyone knew of his love for baseball; he was also greatly interested in history, particularly American history. He read many books and watched dozens upon dozens of documentaries on the topic. He also loved animals, especially horses. He took care of the horses at the farm. He enjoyed horseback riding and simply just watching them graze in the pasture from his dining room window.
Gene was a singer. He was known for two things in St. Marys, IA. His pitching arm and his singing voice. Gene sang in high school plays and variety shows. He sang regularly at church and of course he sang at every big family occasion. But beyond that, he sang every day to his children; in the car, around the house, and to the animals in the barn yard. His voice, like everything else about him, was powerful. In the hearts of those he loved it will resonate for all time.
Gene was devoted to his family. He broke his body working as a construction laborer to provide for them. He followed his children and grandchildren around to every game, play, concert, and graduation he could manage. He spent time with each kid teaching them how to throw, hit, bunt, and field. But when they showed interest in something else, like volleyball, he did his best to learn the fundamentals of that sport too. When asked if he regretted not having a long-term baseball career, he often replied, "How can I be disappointed I didn't make it in ball when I have such a family? I wouldn't trade it for the world."
Gene will be remembered, yes, as a dynamite baseball pitcher; but also, as a "baby whisperer", a lullaby singer, a jokester, a teacher and coach, a man with a sharp mind and a patient and forgiving heart. He was a devoted Catholic. He prayed constantly. He was faithful and hopeful. He had a grip like a gorilla and the most beautiful smiling eyes. With his muscular arms he provided for his family, protected them, and enveloped them with love and security. He felt deeply and loved intensely. He is loved by many and will never be forgotten.
Gene was predeceased by his wife of 55 years, Marianne; his brother Dennis; his father, Bill; mother, Mary; and baby Anna, a daughter he and Marianne lost in infancy along with four other beautiful, loved souls who did not make it to term.
He is survived by his children: Christi (Kit), Ted, Kevin (Michelle), Brian, Calli (Jason), Katie (Kristopher), and Sarah (Matthew); his grandchildren: Jessica, Molly, Justin, Matthew (Mariah), Christian, Alex, Autumn, Peyton, Sawyer, Nolan, Abel, Frankie, Vinny; his great grandchild, Audrey; his sisters Geraldine and Kathleen, his brother Floyd (Connie), as well as several nieces and nephews.
Services will be held at Immaculate Conception Catholic Church in St. Marys, IA on March 28, 2023 at 1:00 pm. A rosary will be held prior to the funeral Mass at 12:00 pm. Graveside services will immediately follow Mass at St. Marys Cemetery. A luncheon/memorial will be held afterwards at the St. Marys Hall.
Memorial donations may be sent c/o Sarah Mayhew at 2451 Miami St, Osceola, IA 50213.