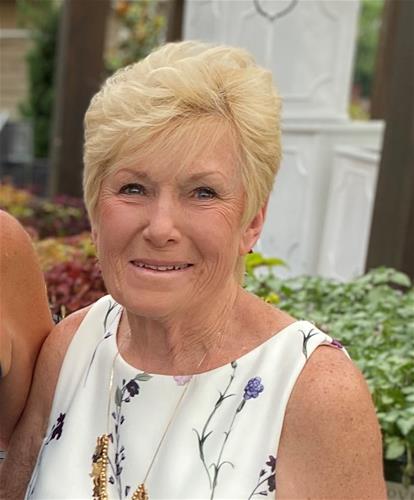 Born on:

May 22, 1942

Departed on:

November 15, 2023

Resided in:

West Des Moines, IA
Arlene Marie Hingl
Arlene Marie Hingl, age 81, passed away on November 15, 2023, in her home after a hard-fought battle with abdominal cancer. She was born in Chicago, Illinois, on May 22, 1942, to Frank and Anne Koziol. Arlene met her husband, Joe, in high school and the two married on May 11, 1963. She and Joe enjoyed 60 years of marriage and raised three wonderful children who became her caregivers for the last few months of her life. Arlene was a devoted wife, mother, grandmother, sister, mother-in-law, aunt, and friend.
After beginning her married life in Chicago, the Hingl family moved to Raleigh, North Carolina in 1973. Amoco Oil relocated them back to the midwest in 1984 where they settled in permanently, finished raising their family, and eventually retired in West Des Moines, IA.
Arlene loved her family most of all. Through the years, she hosted numerous gatherings and holidays where her family enjoyed her home-cooked meals and festivities. Christmas Day was spent in their Iowa home, the 4th of July was celebrated at their summer place at Table Rock Lake, MO, and Sunday evenings were enjoyed gathered around the dinner table with her children and grandchildren, thus beginning the Hingl Sunday Spaghetti Family Dinner tradition.
Arlene was a long-time member of Sacred Heart Catholic Church. She was a faith-filled woman who enjoyed the simple things in life: Sunday mass, the family meal, holiday gift exchanges, tending to her plants, reading the daily paper, Lawrence Welk and home-made pizza on Saturday nights, fishing off the bass boat, an evening swim in the lake, solving the daily jumble, playing cards, and the unconditional love of her dog, Teddie. Arlene's life was blessed and, by its end, her most important prayers were answered.
Arlene is preceded in death by her husband, Joe, and her parents, Frank and Anne Koziol. She is survived by her sister, Patricia Osowski (Ken), her three children Jeri Ray of Pleasantville, IA, Deb (Todd) Dreesman of Roswell, GA, and Joe (Kelly) Hingl of West Des Moines, IA, grandchildren Grace (Grant) Troyer of Pasadena, CA, Thomas (Madison) Dreesman of Cumming, GA, Gretta Hingl of Iowa City, IA, Madie Dreesman of Atlanta, GA, Jack Ray of New York, NY, Faith Hingl of Iowa City, IA, Caroline Dreesman of Roswell, GA, and Tess Ray of Iowa City, IA.
Arlene left this world enveloped in her family's love. The deep affection she felt and the traditions she established will continue through her children and grandchildren in the years to come. Her everlasting love will guide and sustain her family always.
A celebration of Arlene's life will be held Tuesday, November 21 at Sacred Heart Catholic Church at 10:00 AM.