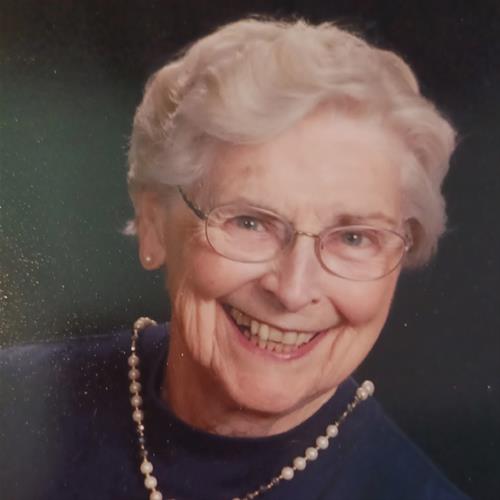 Born on:

February 8, 1935

Departed on:

September 14, 2023

Resided in:

Wes Union, IA
Janann Marie Seabrooke
A beautiful and much loved lady left this world on Thursday, September 14, 2023, in the presence of family members. Janann Marie (Mork) Seabrooke, 88, daughter of the late Kenneth Benjamin Mork and Georgia Meyer Mork, husband of Alan A. Seabrooke and mother of Jill Mack and Timothy Seabrooke passed at Stoney Brook Village in West Union, Iowa.
Jan was born in a tiny house on a creek bottom in rural Clayton County on February 8, 1935. She was joined in the young family by a sister, Nona, three years later, and a brother, Kendall, in 1949. By this time the family had moved to the farm they had acquired on the Elgin-Gunder Road.
Jan began her educational journey in the rural Cherry Valley School west of their family farm in 1940. She had many fond memories of the joys and hardships of going to a one-room school and traveling to and from school in all kinds of weather. She always spoke fondly of her teachers in those early years in school. After she passed the required state tests at the conclusion of her eighth grade year she began her high school education as an Elgin High School Panther. She was an active participant in high school activities. She was a guard on Elgin's Six Player basketball team and liked to tell the story being a hero by "holding down" a high scoring 6'4" All State post player from a local high school to a season low 50 points. She always chuckled when relating this.
She graduated as salutatorian of the Elgin High School Class of 1953, and matriculated to Upper Iowa University that fall.
In October of 1954 she encountered a veteran just discharged from the United States Air Force returning to campus after having spent two and one-half years at UIU then three and three-fourth years in the air force. Nothing happened as a result of that first encounter, but starting on April 25, 1955, there began a relationship that blossomed into a 68-year love affair and marriage. So important was that date that they continued to celebrate that every year for the next 68 years.
Jan and Al went to their first teaching jobs in the fall of 1956—she to Strawberry Point and Al to Victor. That didn't work. They married on June 2, 1957, at Marion Lutheran Church in Gunder, Iowa. They both found positions that fall in the newly created Clermont-Elgin Reorganized School District, Al at the high school and Jan in her beloved junior high school. She loved her job and loved her kids. Except for a period of six years as a stay-at-home mom until their two children entered school, she taught 28 years.
Daughter Jill was born in March of 1958 and son Tim came 13 months later in April of 1959.
Jan began teaching with three years of college, all that was required for certification to teach in junior high until the 1960's. She continued her education at UIU in evenings, weekends, and summers. She graduated in 1964 Cum Laude with a Language Arts, English major.
Jan concluded her teaching career in January of 1992 joining Al who had retired in the spring of 1991.
The 30+ years of retirement were filled with new challenges and adventures for Jan and Al. She, in charge of raising cattle and purebred sheep, keeping a flock of chickens for fresh eggs and meat, a short stint raising pigs, a longer period of helping Al manage a commercial strawberry operation which both found so rewarding, the many years of short, fun winter vacations with sister Nona and husband Wayne Sawyer, and fall vacations in the far west and far northeast.
Following a fall in her home in Elgin on August 18, 2022, and a two week stay in the hospital Janann and her husband moved to Stoney Brook Village in West Union, and sold their Elgin residence. On Sunday, September 10, Jan fell, suffered a brain injury, and succumbed to the injury on the following Thursday.
Jan was a lifelong member of the Lutheran church, most recently Elgin Lutheran, and was actively involved in many areas. She also loved animals, reading, cooking, sewing, quilting, going to garage sales, refinishing furniture, and collecting Jewel Tea Autumn Leaf dishes.
Janann is survived by her husband, Alan, her children: Jill Mack and husband Randy, Solon, IA, Tim Seabrooke and wife Brenda, Elgin, IA; eight grandchildren: Chris (Abby) Mack, Shannon (Alexa) Mack, Solon, Iowa, Maranda (Jake) Ford, Mariah Mack, Tucson, AZ, Alan (Ashley) Seabrooke, Ridgeway, WI, Andrew (Kendra) Seabrooke, Earlville, IA, Paul (Kelsey) Seabrooke, Decorah, IA, Kari Sass, Postville, IA; ten great grandchildren: Audrey and Amelia Mack, Myles and Lillian Mack, Charlotte and Zyler Ford, Ayden Seabrooke, Quinn and Sullivan Sass, Adley Rose Seabrooke; sister and husband, Nona and Wayne Sawyer; nieces Robin Sawyer and Lani Nobles, nephews Scott Sawyer and friend Chris Boston, Mike and Shari Sawyer, niece Judy Kohl, and nephew Terry Edwards, and many cousins.
She was preceded in death by her parents, her brother Kendall Mork, her grandson Joshua Mack, great granddaughter, Vivian Mack, and great grandsons, Peter and Zayden Ford.
Visitation will be held at the Elgin Lutheran Church on Friday, September 22 from 4:00 to 7:00 p.m. and for one hour before the funeral. The funeral will be at 11:00 a.m. on Saturday, September 23.
Memorials may be directed to Upper Iowa University, Friends of the Elgin Public Library, or the Elgin Lutheran Church.